U14B hurling team win Shield final replay after solid performance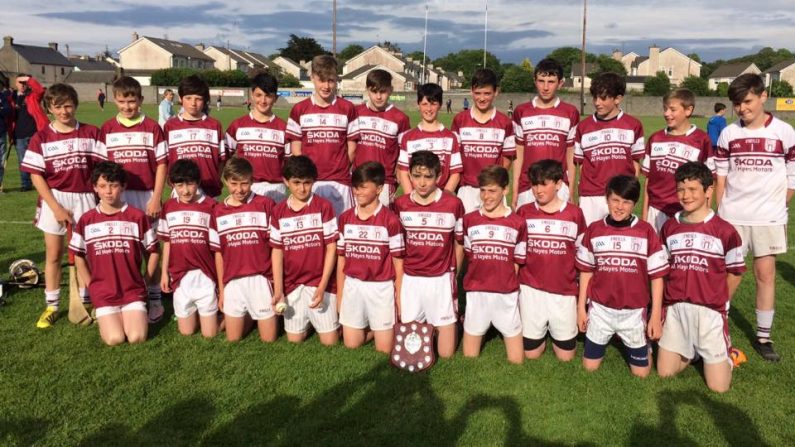 The Under 14B hurling team finished the season with their unbeaten record in-tact after winning the U14 BNOS final.
Newmarket was the venue once again for the final replay and the pitch was in good nick with the good summer evening providing the perfect conditions for hurling.
If the drawn game showed the team starting rather sluggishly, the opposite was the case on this occasion.
The game was barely a minute old when Bryan Ruane at full forward found the net with a good strike.
Playing against the breeze in the first half, St. Josephs applied pressure from the get-go. Within a minute, Diarmuid O'Halloran at wing forward had a point chance that just barely drifted wide. The pressure continued on the Eire Og puck-out with the midfielders and half backs challenging well. Cillian Warner pounced on a breaking ball after direct hurling into the full forward line, and found the net with a solid stroke, proving for some that ground hurling is not dead yet!
Mark Hanrahan popped up with a fine point from play after a good run from midfield, to put the score at 2-1 to 0-0 with only three and a half minutes played.
Slowly Eire Og started to come into the game with their first scoring chance coming from a 65, which Jarlath Collins struck well but it drifted wide. Matthew Power followed that up with a well taken point from play for St Josephs. Sean Mullooly had a point attempt from play and Eoin Guilfoyle a free from the 40, that both veered wide of the posts for Eire Og. Jarlath Collins scored two good points from frees and had two efforts from play and another free that missed the target, as he came into the game for Eire Og.  Eoin Guilfoyle scored a point from play but that was answered with a nice point from play by Diarmuid O'Halloran for the parish.
St Josephs were conceding frees at this stage of the 1st half and Jarlath Collins punished another transgression with a pointed free. A penalty conceded by St Josephs though was not punished as Jarlath Collin's effort went wide of the post as he attempted a blast to the corner. St Josephs began to wake back up again, and two wides from Brian Ruane and Darragh Nagle was followed up with a goal from play by Matthew Whelan.
A Jarlath Collins pointed free and a point from play by Eoin Guilfoyle for Eire Og, left the score at 3-3 to 0-6 in favour of St Josephs.
The second half was a tighter affair with Eire Og getting the first score from a pointed free by Jarlath Collins. Joe Daly had a point attempt drift wide for St Josephs but soon afterwards Mark Moloney had his long range free go directly to the net after a tightly contested high ball in front of the small square. This put St Josephs on the front foot once again, and a wide from Diarmuid O'Halloran was followed up shortly afterwards with a good point from play by Matthew Power. Two wides by Eire Og and St Josephs replied with a nice point from Luke Enright who had come on at half forward for the injured Cillian Warner. Luke had a point attempt veer wide before Mark Hanrahan converted a fine point from play, again after good work in midfield. Eire Og started to change things around in an effort to get back into the game.
Adrian Baker playing at corner back showed experience beyond his years at a vital point in the game, when preventing a strong run by Jarlath Collins on the St Josephs full back line, to receive the first yellow card of the match. Jarlath pointed the resulting close range free. Three wides from the parish, one from a free followed that passage of play.
As the game went into added on time, Eire Og battled hard and James Lyne who was put in at full forward found the net twice within two minutes to make it an interesting finish. However, the clock ran out for them as St Josephs held out strongly to win the match with a final score of 4-6 to 2-8.
St Josephs DB: Cian Roughan, Jack Power (Brian Corry 50mins), Cian Moloney, Adrian Baker (Eoin Clune 53mins), Cillian O'Riordain (Capt), Cian Lahiffe, Darragh McMahon (Joe Daly 29mins), Mark Hanrahan, Matthew Power, Darragh Nagle, Mark Moloney, Cillian Warner (Luke Enright 37mins), Matthew Whelan (Charlie McGuinness 50mins), Bryan Ruane (James Curran 54mins), Diarmuid O'Halloran (Morgan Lahiffe 45mins)