A strong finish to the first half ensures victory over Cooraclare.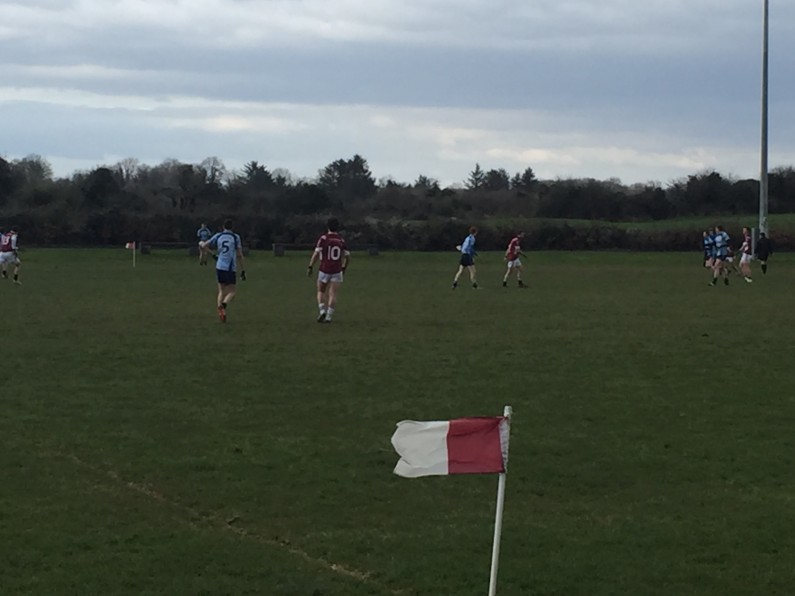 St Joseph's Doora Barefield recorded a hard fought win in Gurteen this evening against Cooraclare. Doora Barefield played with the breeze in the first half and they recorded 1-05 in that period.
The Parish led on a score of two points to one mid way through the first half. Alan O Neill with DB 3rd point after a good delivery from Christy O Brien. 0-3 to 0-1. A Goal from Kevin Harrington after quick hand pass from Luke Brannock putting him through gave St Joseph's a healthy lead. Kevin shot high to the top of the net as he found himself one on one with the goalkeeper. The score now read 1-3 to 0-3 with Cooraclare recording two points in a row previous to this, one from play from 14 and one from a close in free. Sean Flynn scored a point for the Parish after a good run by Ivor Whyte set him up. The score of the game came from Mark Hallinan with a superb long range point just before the half time break.
HT 1-05 to 0-3 in favour of Doora Barefield.
The second half of the game took awhile to spark into life. Doora Barefield playing against a strong wind opted to hold possession of the ball for long periods. David O Brien replaced Johnny O Brien at half time and he was prominent on the ball. Steven Collins replaced Ivor Whyte at midfield and Phillip Ryan replaced Martin Brooks due to an injury. David O Brien scored the sixth point for Doora Barefield as he cut in towards goal and took his score well.
The score now read 1-06 to 0-04. Shortly after this Luke Brannock was given a straight red by the referee. Cooraclare got their fifth score from a placed ball. It was now 1-06 to 0-05 in favour of Doora Barefield. Cooraclare were reduced to 14 men as midfielder got a second yellow. 1-06 to 0-06. Cooraclare were next to score after a quick free found their centre back (6) and he put a goal between the sides. Doora Barefield gathered possession from the resultant kick out and the referee blew the final whistle.
Team: Niall Duggan, Paudie Nugent, Kevin Dilleen, Ger Fannin, Martin Brooks, Declan Malone, Kevin Harrington, Ivor Whyte, Mark Hallinan, Kevin Frehill, Sean Flynn, Luke Brannock, Johnny o brien, Alan O Neill, Chris O Brien