U13A Shield Final V Truagh/Clonlara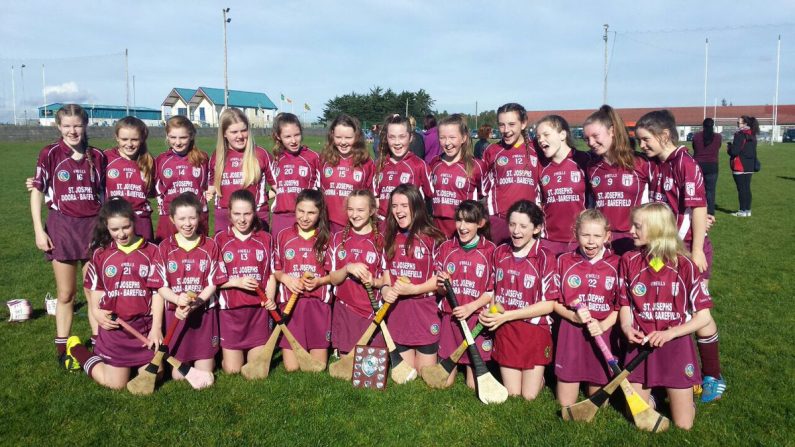 The U13A shield final took place in Clarecastle, in fine weather as Truagh/Clonlara went head to head with St Joseph's Doora Barefield to contest the U13 A Shield Final. With both clubs duplicating the lineup for the Senior Shield Final directly after, the onus was on each to set the precedent for the days events!
Having encountered each other in  round game back in September, Truagh/Clonlara had won comfortably, but St. Joseph's knew they hadn't played to their potential that first day and were determined to put things right and diminish the underdogs tag.
First out of the traps were the maroon & white girls with a perfectly posed point from the tall & agile Kate Montwill. Saidhbh O'Brien sprinted through on a solo run from midfield to connect with full forward Caoilfhionn Ní Chonaill where the silotar rattled the back of the net, settling the St. Joseph girls into the game. Kate Montwill yet again burst through to pop over her second point of the day but Truagh/Clonlara fought hard to get into the game and despite bring refused entry by a solid half back & full back line and superb goalie Katie Callaghan. Following a defensive wall from St. Josephs, centre forward Joanne Egan decided to take the easier option of a point followed with another from corner forward Hannah Tiernan. But there was plenty more fire in the St. Joseph's girls bellies and when Kate Montwill yet again blasted the silotar towards Truagh/Clonlara goalie Caoimhe Fennessy, it left Ava Lenihan to polish it into the net leaving half time score St. Joseph's 2-2, Truagh/Clonlara 2 points.
The second half was going to be an uphill battle for Truagh/Clonlara and try as they might there was no penetrating the strong defence line St. Joseph's produced. Róisín Dillon, Sinéad O'Connor and Hannah Doyle refused Truagh/Clonlara admission & St. Joseph's goalie, Katie Callaghan, played wonderfully as she blocked ball after ball from the south east Clare side. Centre back Emma Towey played a captains role giving leadership throughout this game and was instrumental distributing ball into the Joseph's forward line along side her two wing backs Róisín Cahill and Oriana O'Shea. The midfield duo Saidhbh O'Brien & Shauna Moloney continued to do what they had done throughout the U13 Campaign as they effortlessly passed ball into Ellen Doyle, Anna Cosgrove & Caoilfhionn Ní Chonaill in the full forward line and it was Ellen Doyle in corner forward that secured her name on the score sheet when an accurate silotar hit the net. Centre forward Emma O'Dwyer fought hard to gain possession and laid off ball to wing forwards Ava Lenihan and Kate Montwill and at this stage St. Joseph's were into a comfortable position as the game drew to the final stages but Shauna Moloney was yet to get her name on the score sheet as she struck an accurate free to secure this Shield's home place for the next 12 months.
Fresh legs in the form of Laura Butler, Niamh Meaney, Emer Hanrahan, Áine Barry and Lucy Scullion only strengthened the St. Joseph's attack but the scoreline in no way reflected the tightness of this sharp encounter and when Áine Nic Cormaic finally called a halt to proceedings the final score read St. Joseph's Doora Barefield 3-3 V Truagh/Clonlara 0.2. Tremendous performance from a truly outstanding bunch of girls brought their just reward. From number 1 through to 22 played a pivotal role in winning this A Shield final and throws great light on the future of St. Joseph's Doora Barefield Camogie Club.
St. Joseph's Panel: Katie Callaghan, Róisín Dillon, Sinéad O'Connor, Hannah Doyle, Oriana O'Shea, Emma Towey (Captain), Róisín Cahill, Shauna Moloney, Saidhbh O'Brien, Ava Lenihan, Emma O'Dwyer, Kate Montwill, Ellen Doyle, Caoilfhionn Ní Chonaill, Anna Cosgrove, Niamh Meaney, Laura Butler, Lucy Scullion, Áine Barry, Emer Hanrahan, Emma McGrath, Aisling McDonagh.
Management: Órla Ní Dhálaigh & Jamsie O'Connor