St. Joseph's GAA Return to Action – Covid-19 Information
Return to GAA – Training Mandatory Checklist:
Complete membership registration with Clubforce
Complete Covid-19 Club Education eLearning Module

Should be completed by everyone entering GAA facilities/grounds especially Players, Team Personnel, Parents/Guardians
Should take no longer than 20 minutes to complete. Please screenshot completion certificate and forward to team manager or club officers.

Register for and complete online GAA Return to Play Health Questionnaire @ https://returntoplay.gaa.ie/

All players and parents/guardians of minors must complete this online questionnaire.

Mandatory completion required before resuming training/coaching

.

Step 1 – Create your user profile using your email address and choose your own username. (Note, this is not connected to Clubforce account in any way.)
Step 2- Select Club as "Naomh Seosamh Dubhraith Gortloman"
Step 3- Complete the Health Questionnaire (5 simple Covid-19 related questions). Note, parents can submit multiple Health Questionnaires for multiple children on the parents account.
Step 4-Prior to each subsequent training session, you will be asked to reconfirm that your health status has not changed. This can be done by accessing the list of forms on your profile and selecting 'Reconfirm This'

Note – certain responses will preclude you from returning to Gaelic Games facilities in order to protect the health and safety of other members.
Note – none of the answers provided are visible to anyone within the club. The successful completion of the questionnaire essentially green lights the player/child to resume/continue training. It is only this illegibility to train status that is available to the club officials. The GAA Return to Play Health Questionnaire is controlled and operated nationally by the GAA.
Note – there is no specific Mobile App for this but can be reached via any web browser from mobiles or laptops etc.
See Gaelic Games Health Questionnaire Guidelines
Facilities and Equipment:
All players and parents are asked to park/drop off children on the designated parking areas associated with the training pitch in question. Coaches to inform players/parents beforehand.
Arrive and depart immediately before and after training – no hanging around.
PARKING ZONES

Parking Zone for Pitch 1  – beside Astro Turf pitch
Parking Zone for Pitch 2 – left hand side of carpark beside of pitch 2
Parking Zone for Pitch 3 – in front and side of pitch 3
Parking Zone Pitch 4 – in front of pitch 4

All players must come togged and bring own equipment, water bottle (with identification) etc. No sharing of equipment.
All changing rooms closed until further notice.
Please use hand sanitizer provided before and after each training session
Hand Sanitizer Locations:

On right side of stand pitch 1

Beside toilets pitch 1

Beside referees room pitch 1

Beside Parking Zone 2 between pitch 1 & 2

On side of stand between Pitch 2 & 3

On wall of toilets pitch 3

COVID ROOM – 

The defibrillator room beside pitch 1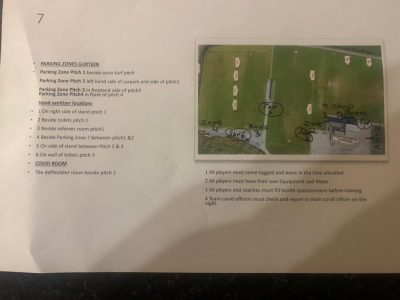 .
Other Useful GAA Related Resources: