Under 14's bow out of Feile at Final hurdle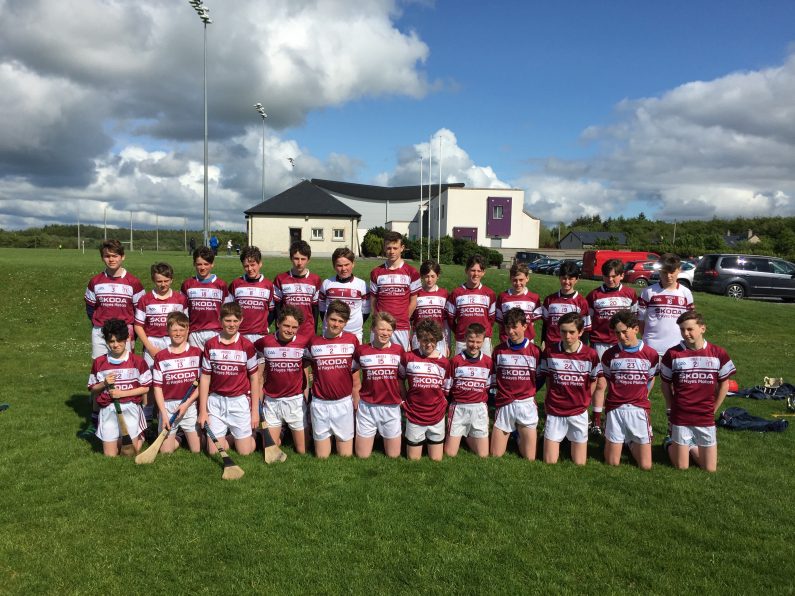 After a good win in the Feile semi-final, the U14A team came up against a much stronger outfit in Sixmilebridge in the final.
The game got off to a quick start for Sixmilebridge with their first attack ending in a wide from play by Dylan Downes. The tackling and battling for possession was predominant in this game, and after a number of frees conceded, Sixmilebridge were penalized with a converted free by Tony Butler. Three minutes later, Dylan Kennedy also scored a point from a free for the 'bridge.
Half way through the first half, Sixmilebridge scored a vital goal with Matthew Hurley shooting to the net after a good run through the St Joseph's defense. St Josephs battled back with Ethan Coughlan pointing a free from the 40. The game was still nip and tuck, with both teams exchanging points, Sixmilebridge scoring one from play by Luke O'Halloran and a free from Dylan Kennedy, with Tony Butler finishing the scoring for St Josephs with a pointed free from distance. At the end of the first half the score read St Josephs 0-3 (3) Sixmilebridge 1-3 (6).
The second half continued in much the same vain with both teams battling hard for possession with scoring chances hard to come by. A wide from play by Tony Butler was followed by a similar wide from play by Luke O'Halloran. However, David Kennedy scored a good point from play to put an extra buffer in the scoreline for Sixmilebridge. A scoring chance from play by Tony Butler was waved wide, which proved a tad controversial, a situation where 'Hawkeye' would have been advantageous. However the wide stood.
Following this St Josephs made some changes in an effort to open up the game in a match that was very tight. Sixmilebridge stood firm though and scored three points from play, 1 from David Kennedy and two from Dylan Downes as St Josephs made efforts to push forward and make inroads in attack. The game showed great examples of hooking, blocking, battling for possession by both teams but with Sixmilebridge proving stronger in that department on the day. The game ended on a scoreline of St Josephs 0-3 (3) Sixmilebridge 1-7 (10).
Best of luck now to the 'bridge who go on to represent Clare in the Feile weekend starting on June 17th.
St Josephs DB Team: Cian Hadden, Darragh Whelan, Darragh O'Callaghan, David McNicholas, Fionn Kelleher, Tony Butler (0-1), Eoin Talty, Joey Keane (Capt), Shane O'Halloran, Matthew Power, Donal O'Driscoll, Seanie Keane, Conal O'Regan, Eoin Burke, Ethan Coughlan (0-2, 0-1F)
Subs: Cian Roughan, Luke Enright for Conal O'Regan (27mins), Mark Hanrahan , Cian Lahiffe, Cian Moloney, Diarmuid O'Halloran, Sam Cotter for Matthew Power (37mins), Darragh Nagle, Cillian O'Riordain, Mark Moloney