Doora Barefield Minor's defeated by Kilmaley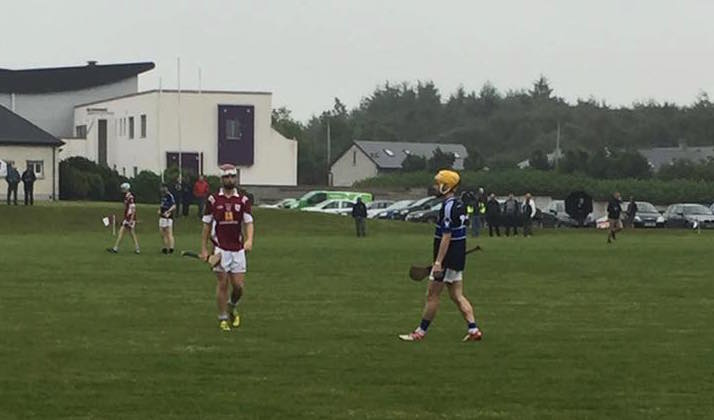 Doora Barefield 1-08 Kilmaley 1-14
Gurteen was the venue for the Minor A first round and St. Joseph's took on Kilmaley. In a low scoring game, it was Kilmaley who took the points after an outstanding display from centre back Seán Kennedy.
Kilmaley registered the first score of the game after 1 minute through their centre forward however Cathal Ruane levelled the game from a free a minute later. Cathal Ruane punished Kilmaley from a placed ball once more after Conor Tierney was fouled. Aidan Kennedy scored a great point on the run to register Kilmaley's second score. Darragh Duggan, wing forward for St. Joseph's landed a superb free to put The Parish ahead. Kilmaley's Aidan Kennedy and Seán O'Loughlin added points to put the visitors in front; 4 points to 3. It took Kilmaley 8 minutes to register the next score however their outstanding centre back Seán Kennedy scored their fifth point from long range. Darragh Duggan again was on target from long range in the 21st minute. Kilmaley's centre forward added a score before Darragh Duggan got St. Joseph's fifth point.At half time, there was a point between the sides as Kilmaley lead 0-06 to 0-05.
In the second half, quite a number of cards were dished out in the opening minutes and the home side were reduced to 14 as corner back Tomás Hehir got his second yellow card in the space of four minutes. Kilmaley made the most of the free with wing forward Tom O'Rourke slotting over the first score of the second half. Seán O'Loughlin then hit for a goal after a neat pass found the full forward with time and space close in and he made no mistake. Now Kilmaley were five points ahead. O'Loughlin was soon on the scoresheet again with a point .Cathal Ruane replied for St. Joseph's; their sixth point of the evening. Aidan Kennedy added another point for the visitors and this was followed by another point from Tom O'Rourke. Kilmaley were finding their men with lovely stick passes and their wing back made an intelligent run through the middle and he shortened the grip to add another point for Kilmaley. Darragh Duggan added another point from a free and St. Joseph's centre forward Tom Hannon found the target with a goal after a long delivery into the square which was fumbled on the line. Substitute Dylan Mulligan was introduced by St. Joseph's and he scored a great point after a quick turn to get away from his marker.Seán O Loughlin of Kilmaley scored the final point of the game to leave six points between the sides.