Hurlers defeat Corofin in the U14A Championship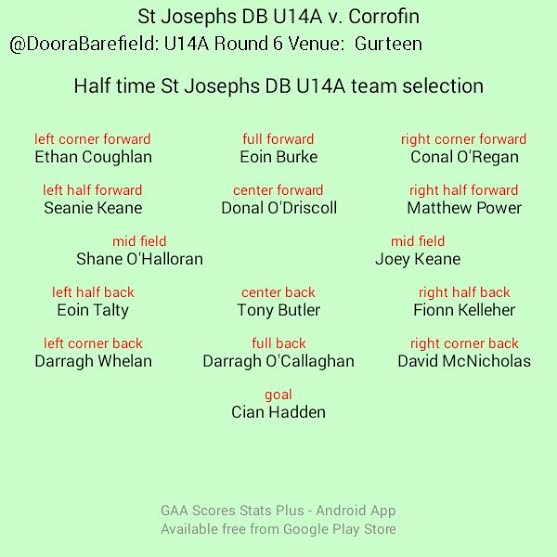 St. Joseph's first round game of the championship was re-scheduled due to an unplayable pitch and this fixture was re-organized for Sunday. The game took place in Gurteen G.A.A Complex.
Eoin Burke was first on the score sheet with a point in the opening 4 minutes when he pointed to level the scores. Tony Butler registered St. Joseph's second score from a free. 12 minutes into proceedings, corner forward Ethan Coughlan raised the green flag for Doora Barefield. He was also on the score sheet soon after with a point. Eoin Burke added another point to his tally half way through the first half. St. Joseph's Donall O'Driscoll was on target with another point.
At half time, the score read 1-9 to 0-1 in favour of The Parish.
St. Joseph's second goal came from Joey Keane early in the second half. Corofin were to raise a green flag themselves from a free. Matthew Power added a point for The Parish.
The final score was 2-15 to 1-2.
The team sheet is available in the media image and the following substitutes were introduced;
11mins 2nd half substitution St Josephs DB U14A–> off: Ethan Coughlan  on: Mark Moloney
24mins 2nd half substitution St Josephs DB U14A–> off: Eoin Burke  on: Sam Cotter
25mins 2nd half substitution St Josephs DB U14A–> off: Matthew Power  on: Mark Hanrahan
28mins 2nd half substitution St Josephs DB U14A–> off: Fionn Kelleher  on: Cillian O'Riordain
28mins 2nd half substitution St Josephs DB U14A–> off: David McNicholas  on: Cian Lahiffe