Under 13 Garda Football Tournament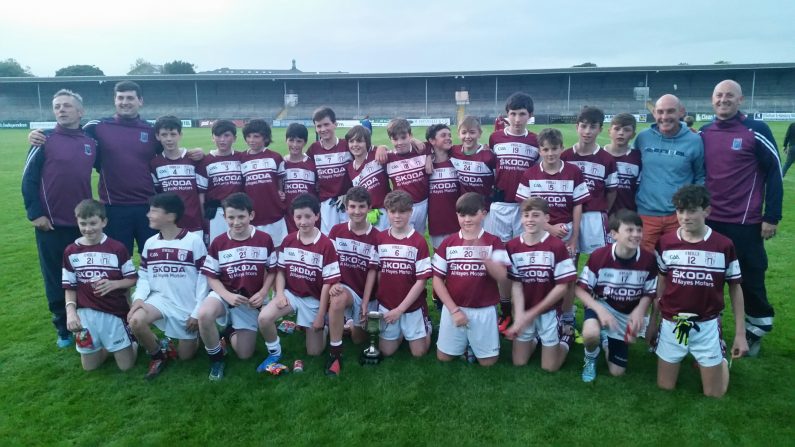 Well done to our U13's footballers who won the Sergeant Michael Haran Memorial Garda
Football Tournament on Friday Sept 2 nd in Cusack Park. This competition started out with 12
teams and the Division 1 final was contested between St. Joseph's and Ennistymon. This was
always going to be an intriguing match as the two teams had met just a few weeks previously
in the U 14 decider – and so it proved! The first half was played with incredible pace and
intensity with goals being exchanged between the teams in the first quarter. However towards
the end of the half St Joseph's scored some unanswered points resulting in them leading 2-6
to 2-0 at half time.
The second half continued with the same intensity and exceptional defending from both
teams resulted in a very low scoring second half – St Joseph's managing 0-2 to Ennistymon's
1-0. This game was end to end stuff, remaining alive right until the final whistle with St
Joseph's coming out on top on a score line of 2-8 to 3-0. Afterwards amid joyous scenes and
fading light, Inspector John Galvin presented the Michael Haran memorial cup to St Joseph's
captain Fionn Kelleher.
This group of players have to be commended for the excellent attitude and dedication they
have shown to training and matches not just this year but over the past number of years and it
is only fitting that it resulted in this victory. Many thanks also to the parents for the huge
support not just on Fri night, but again over the past number of years.
This was a thoroughly entertaining game between two fantastic teams, who will in no doubt
meet again!
St Joseph's Doora Barefield Team: Samuel Costello, Jack Power, Cian Moloney, Cillian
Warner, Cian Lahiffe, Fionn Kelleher, Mark Hanrahan, Oisin O Donnell, Eoghan Talty,
James Curran, Nicki Hardiman, Dara Nagle, Luke Enright, Joseph Rafferty, Matthew Power.
Subs: Eoin Clune, Joe Boyle, Joe Daly, Darragh Mc Mahon, Cillian Brennan, Mark Moloney,
Finn Woods, Conor Crowley.
Scorers: Matthew Power (1-0), Luke Enright (1-0) Joseph Rafferty (0-3) James Curran (0-2)
Eoghan Talty (0-2) Niki Hardiman (0-1)
Management Team: Jim Curran, John Power, Albert Hardiman, Eoin Hanrahan.