St'Joseph's Doora Barefield U14 Boys Football Div 4 Feile Final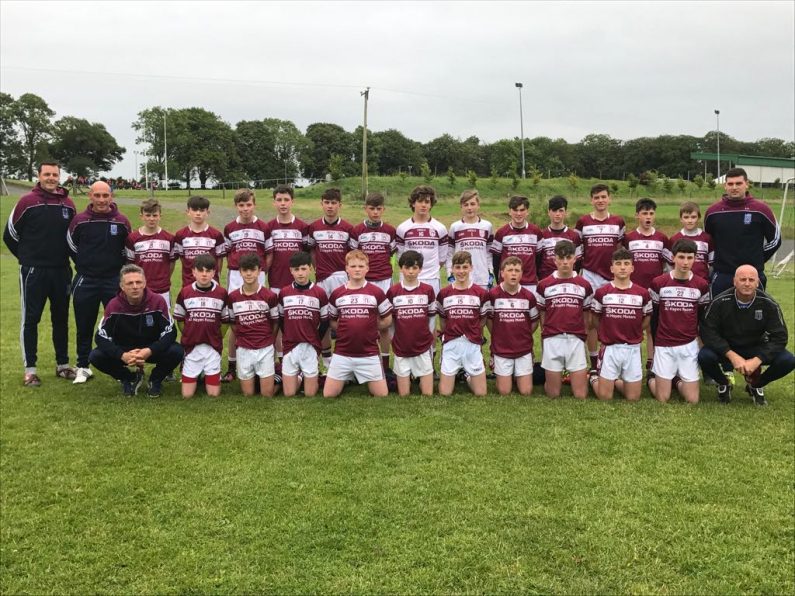 Feile na nOg 2017 Division 4 Cup Final.
What a weekend it had been and now we had a final to look forward to. Doora Barefield were attempting to be only the 3rd Clare team to win Feile Division 4 cup in 32 years. The Doora Barefield team had left Grattan Park for a few hours to recharge the batteries and were now facing a strong side from O'Raghallaighs from Drogheda, Louth Champions.
Played in front of a big crowd in Grattan Park, Inniskeen, this was a new level for the boys. Both sides got a guard of honour on to the pitch and it would have been the first time to have had to face the tricolour while Amhran na bhfiann was played.
Doora Barefield showed little nerves and started off strongly with a point from Eoghan Talty and Daragh Nagle. O'Raghallaighs are a strong side and they started to put pressure on our boys and pulled back a score to have the minimum between the sides. The boys responded and with some great football being played, Daragh Nagle with a point from a free and a great goal by Eoghan Talty followed by a further point each from Eoghan and Daragh put Doora Barefield in the driving seat on a scoreline of 1-05 to 0-01. However, O'Raghallaighs pressed hard towards the end of the first half and an outstanding save from Eoin Clune, denying the O'Raghallaigh's centre forward from point blank range would prove to be very important in this game.
The second half kicked off and the efforts from the boys in the first half were starting to show as O'Raghallaighs took control, they picked off a quick point and followed up with a great goal to leave the scoreline 1-05 to 1-02. The boys were under pressure and another point from the Louth side meant there was only two points in it with 5 minutes remaining. Some stout defending and tremendous effort kept the Louth side at bay and there was relief among the supporters as the final whistle with Doora Barefield finishing up as Feile Peile Division 4 winners on a scoreline of 1-05 to 1-03 for O'Raghallaighs.
This team had deserved this moment as collectively they have worked hard for each other, played tremendous football and were excellent ambassadors for their parents, mentors, club and county over the weekend.
All that was left was the long trip from Monaghan home and with news reaching the supporters that the U14 Girls had been crowned Feile Peile Division 3 Cup Champions, this was turning out to be a great weekend for the club. Both teams got a tremendous reception home with bonfires and a large crowd assembled at the Grove to welcome home these two outstanding teams…….
A final note of thanks to the host clubs, Killygarry for the boys and Lavey for the girls. The hospitality and welcome that they showed for the players, parents and supporters alike was a credit to their clubs and showed how the GAA family look after each other. A brilliant weekend that these kids will never forget and friendships made with other boys and girls that we are confident that they will keep in touch…. The true spirit of Feile!
Every member of the panel played their part today with every member playing today. (Ref picture of the panel)
Panel:
Luke Enright, Finn Woods, Joe Boyle, Jack Power, Eoghan Talty, Oisin O'Donnell, Jack Scahill, Eoin Clune, Cian Moloney, Cian Lahiffe, Mark Hanrahan, Samuel Costelloe, Dara McMahon, Joe Daly, Nicki Hardiman, Cillian Warner, Osgair O'Gorman, James Curran, Matthew Power, Fionn Kelleher, Daragh Nagle, Joseph Raftery and Mark Moloney.