St'Joseph's Doora Barefield Div 4 U14 Boys Féile Football Semi Final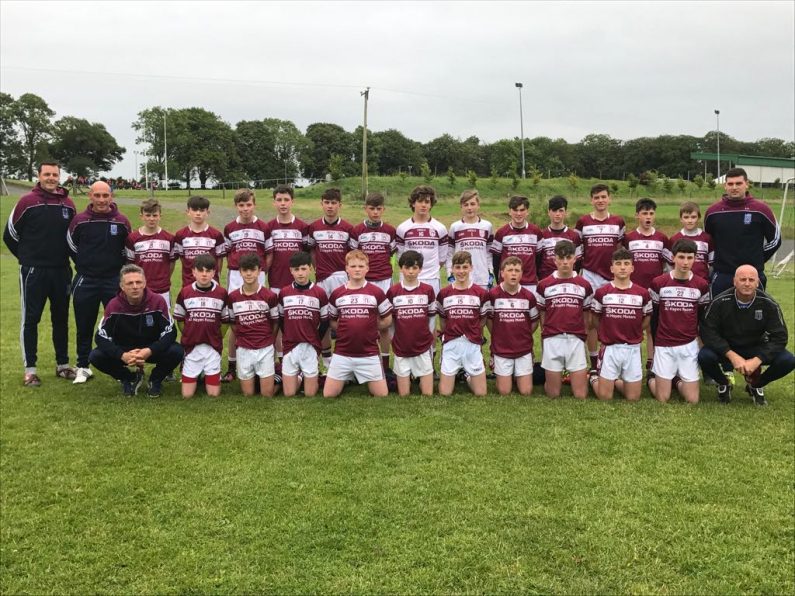 The lads are taking on Eire Og Greystones from Wicklow in the U14 boys Féile football semi final.
Féile Peile na nOg 2017  Division 4 Cup Semi-Final
Doora Barefield 3-06  Eire Og Greystones 1-04
After winning their four games played over Friday and Saturday, the boys face the Wicklow Champions, Eire Og Greystones in the semi final. The team and supporters leave their hosts Killygarry and make the trip up to Grattan Park, Inniskeen in Monaghan. The standard of the facilities available again were impressive and two top class pitches were ready for the two semi-finals.
Doora Barefield started quickly and a point and a goal from Eoghan Talty had the boys on top but Eire Og with the help of a breeze took control and scored 1-03 before half time to put them leading at the break by two points.
The boys like they had shown all weekend were ready for the battle and three frees from Daragh Nagle put them in the lead before a penalty from Eoghan Talty and a goal from Mark Moloney put them in the driving seat. Doora Barefield finished the game with a further free from Daragh Nagle and Oisin O'Donnell scoring a great point from play to put the boys through on a final scoreline of Doora Barefield 3-06 to Eire Og Greystone 1-04. The boys now had a Féile final to look forward to and mentors had the challenge of preparing the team for a three hour wait for the final.
Every member of the panel played their part today with every member playing today. (Ref picture of the panel)
Panel:
Luke Enright, Finn Woods, Joe Boyle, Jack Power, Eoghan Talty, Oisin O'Donnell, Jack Scahill, Eoin Clune, Cian Moloney, Cian Lahiffe, Mark Hanrahan, Samuel Costelloe, Dara McMahon, Joe Daly, Nicki Hardiman, Cillian Warner, Osgair O'Gorman, James Curran, Matthew Power, Fionn Kelleher, Daragh Nagle, Joseph Raftery and Mark Moloney.