St,Joseph's Doora Barefield Boys U14 Football Feile Game 1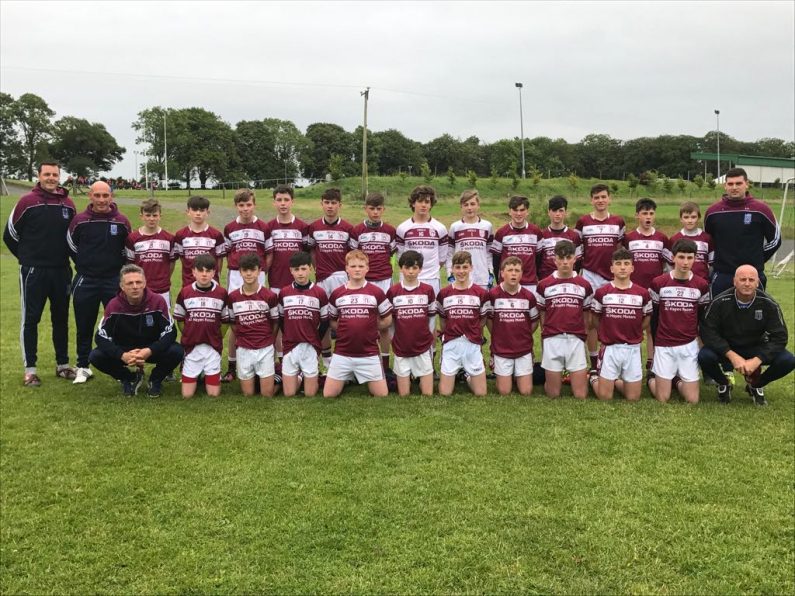 Doora Barefield Feile Peile na nOg 2017
The parish are represented on two fronts in Feile with the U14 boys and U14 girls travelling to Cavan having both won out in the Clare Feile competitions.
Both teams met up in Gurteen on Friday morning for the send off for the trip to Cavan. The boys being hosted by Killygarry GAA and the girls by Lavey GAA.
Doora Barefield 4-03  Gaultier 1-03
The boys first game was against Waterford Champions, Gaultier. The first half of this game was a tight affair with both sides taking time to settle in. Doora Barefield were unlucky with hitting the post, crossbar before a goal from Eoghan Talty followed by a point from play by Joseph Rafferty and a free from Daragh Nagle had the parish boys up at half time on a score of 1-2 to 0-3.
They started quickly in the second half and goals from Eoghan Talty and Joseph Raftery put them in a strong position. Despite getting on top on the scoreboard, this game was very even but Doora Barefield took their chances better in this half. Daragh Nagle scored a goal from a rebound from a great save by Gaultier goalie and a further point from a free from Daragh resulted in Doora Barefield boys coming out on top on a final scoreline of 4-03 to 1-03. A great performance from the boys once they settled into the game and strong performances throughout the team
Every member of the panel played their part today with every member playing today. (Ref picture of the panel)
Panel:
Luke Enright, Finn Woods, Joe Boyle, Jack Power, Eoghan Talty, Oisin O'Donnell, Jack Scahill, Eoin Clune, Cian Moloney, Cian Lahiffe, Mark Hanrahan, Samuel Costelloe, Dara McMahon, Joe Daly, Nicki Hardiman, Cillian Warner, Osgair O'Gorman, James Curran, Matthew Power, Fionn Kelleher, Daragh Nagle, Joseph Raftery and Mark Moloney.
Meanwhile, the U14 girls have made a great start to their Feile with two wins in their first two games.