U21B Shield Final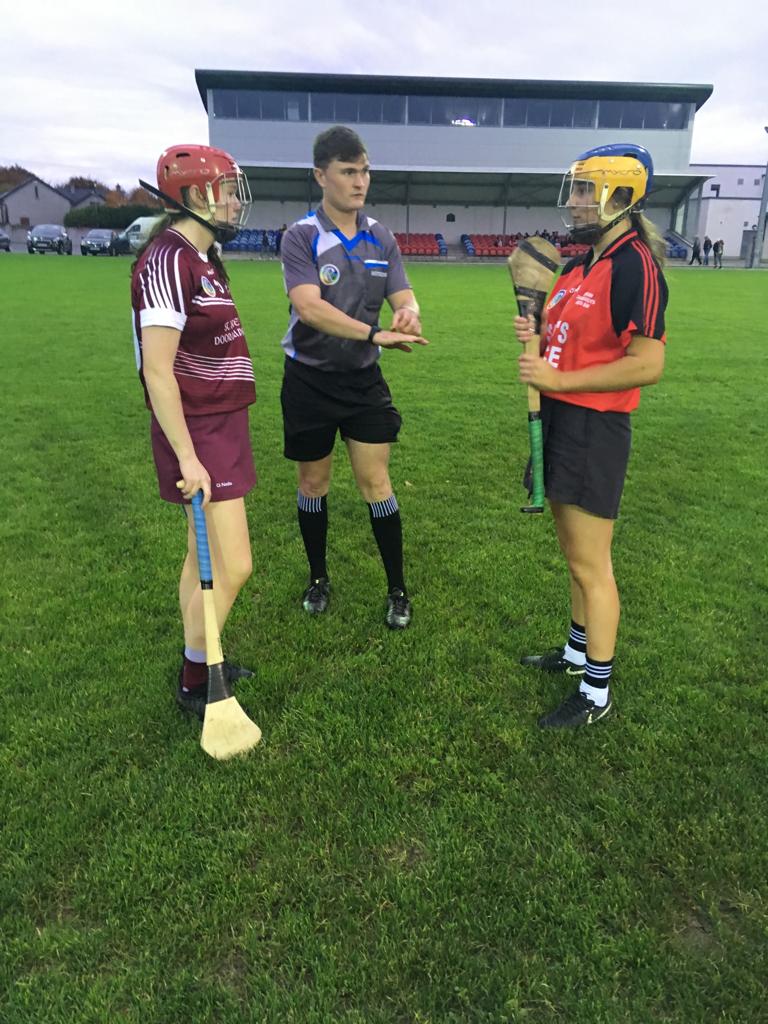 U21B Shield Final St. Joseph's V Whitegate
With the curtains closing in on the 2018 camogie campaign, the small matter of an U21B Semi Final had to be settled before players and management could hang up the boots for the season.
In true sportsmanship Whitegate travelled to Gurteen to avail of the lights on this late evening throw-in casting neutral venue for finals aside.
St. Joseph's were first out of the traps scoring three successive points, two from veteran Caoimhe Hoey another from Síofra Ní Chonaill before Áine McDermott for Whitegate rattled the back of Karen McMahon's net putting things square.
Joseph's replied with three more successive points, two from Ciara Duggan and another from Kiera McGrath but Gretta Hickey from the East Clare side squared up the game with yet another goal leaving Joseph's with six points and Whitegate with two goals.
Orla Moloney, Kate Dillon and Joint Captain Megan O'Brien proved a force to be reckoned with in the full back line up as the Whitegate full forwards ran at them but were kept at bay diligently aided profoundly by Chloe Towey and Vanessa Meaney in the half back positions.
Corner forward McGrath for Joseph's was on fire and blasted another goal and two points to her first half tally while her team mate Aisling Hannan scored a point from play and Duggan sliced over two from well placed frees.
Hickey for Whitegate pointed two more while her team mate Cáit Keenan scored one before the half time whistle blew leaving score line St. Joseph's 1-11 to Whitegate's 2-3 at the interval.
The second half saw Joseph's slip into gear and dominate on home turf scoring six unanswered points in concession.  Joseph's Joint Captain Aisling McMahon took on a leaders roll dominating the forward line while her counterpart and fellow captain Megan O'Brien did likewise in defense.
Joseph's Captain McMahon, Duggan, Hannan, Hoey, Ní Chonaill and McGrath all added to this second half score line as well as Hannah Meaney playing an instrumental role in midfield position popping over her first of the evening.
Whitegate did reply in true style with a well earned goal from Dara Donnellan as well as another point from Hickey and a point from a free from goalie Solan but it wasn't enough to quash the hunger of these U21 Doora Barefield ladies and when Aaron Hogg blew the full time whistle the tally finished at Joseph's 2-27 Whitegate 3-5.
Joint captains Aisling McMahon and Megan O'Brien were awarded the U21B shield from camogie chairperson Joe Robbins as he complemented both teams on a superb game of camogie with extremely high scores.
Having lost out to Kilkishen/Bodyke in the Cup semi earlier in the year these bunch of girls showed maturity and spirit to rally round and claim this U21B Shield title.  Whilst acknowledging the Shield wasn't utmost in their minds as the campaign commenced but rather the Cup, it proved to be a very enjoyable finale to a superb season as four players bow out of U21 this year, namely Joint Captains Aisling McMahon and Megan O'Brien as well as Ellen Meaney and Caoimhe Hoey.
St. Joseph's Panel
Karen McMahon, Orla Moloney, Megan O'Brien (JC), Kate Dillon, Vanessa Meaney, Chloe Towey, Aisling Hannan, Síofra Ní Chonaill, Aisling McMahon (JC), Caoimhe Hoey, Kiera McGrath, Ciara Guilfoyle, Ciara Duggan, Hannah Meaney, Ellen Meaney, Laura Hayes, Aisling Reidy, Amy Lenihan, Emer Hanrahan, Niamh McDonagh, Aoife Shannon, Orla Hoey, Meadhbh O'Connor, Ann Foudy, Leanne Meaney, Muireann Collins, Ciara Whelan, Múirne Ní Chonaill, Naoise Slattery, Alannah Meaney.
Whitegate Panel:
Lauran Solan, Nicola Bugler, Amy Solan, Leah Bugler, Katie Hynes (C), Aoife Quirke, Molly Spazzi, Amber Nolan, Cáit Keenan, Gretta Hickey, Niamh Quirke, Áine McDermott, Anna Burke, Dara Donnellan, Shannon Waterstone, Anna Sugrue, Meave O'Rourke, Noreen Bugler, Ciara Geoghegan