U14B Championship V SMB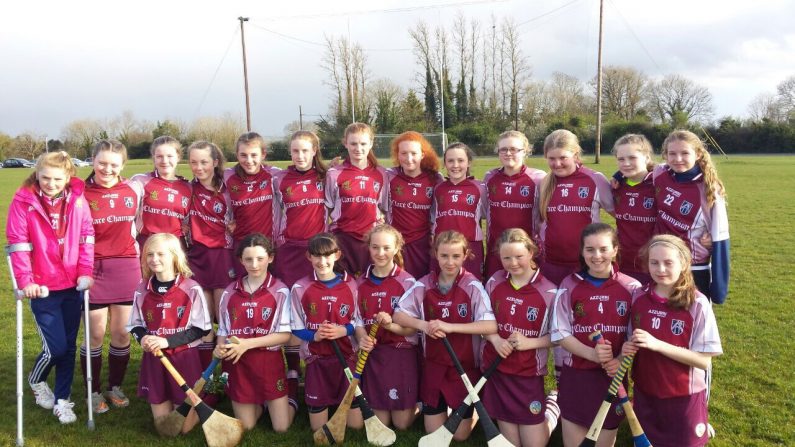 Coming down from the buzz of a magnificent weekend where these outstanding maroon and white girls secured silver in Féile competition it was to be a slow start to the 4th round of U14B championship. But that was quickly rectified in the second half to give our girls a well earned victory over the Sixmilebridge side on a crisp spring evening in Gurteen.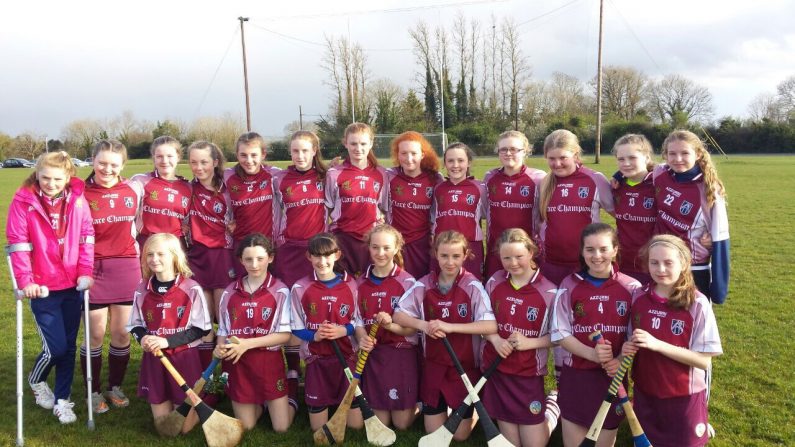 Captained by the ever dependable Saidhbh O'Brien it was Sixmilebridge that looked the keenest in the opening half as they opened the score, hitting the net twice, first by Sinéad Cahill & then Ailise Roche before Roche popped over a point to make it look like they would sail through this round.
But St. Joseph's held their composure and when Múirne Ní Chonaill caught a badly hit free she ran through to punish the Sixmilebridge defence and bury the sliotar in the back of the net, swiftly followed by yet another goal from midfielder Alannah Meaney leaving half time score 2-1 to 2-0.
The second half was to be the complete opposite of the first where this time St. Joseph's dominated all areas of the field & let their defenders & young outstanding goalie Katie Callaghan have an easier time compared to the pressure of the first half. Nothing went past the sweeper Emma Towey at centre back as she swept every ball back to the midfielders as soon as it arrived down to her, well aided by her wings & full back line.
Once again Saidhbh O'Brien & Alannah Meaney proved their physical & intelligent hurling moves at midfield and when Meaney barged through the Sixmilebridge defence to bang home her second goal of the evening it was followed with a strong Naoise Slattery goal leaving the Sixmilebridge team in despair as to how and where the turn around came from! They did however get themselves on the score sheet when they won a free inside the 21 yard line and Áine Healy promptly popped the sliotar high between the posts but it was too close to the final whistle.
When Joe O'Donnell did blow it up it left D/B 4-0 to Sixmilebridge 2-2….
A great second half performance from the Gurteen women secured them their third victory in this championship round with three more rounds to play. Lovely hurling skills shown from both teams with hooking, blocking & ground hurling in play throughout the field. Roll on the next round girls…..
Team: Katie Callaghan, Anna Cosgrove, Sinéad Clancy, Sinéad O'Connor, Róisín Cahill, Emma Towey, Shauna Moloney, Alannah Meaney, Saidhbh O'Brien (Captain), Ellen Doyle, Múirne Ní Chonaill, Kate Montwill, Róisín Dillon, Naoise Slattery, Aoibhinn Feighery, Áine Barry, Ava Lenihan, Niamh Meaney, Emma O'Dwyer, Grace Kennedy, Caoilfhionn Ní Chonaill, Emer Hanrahan