Munster Junior Club Championship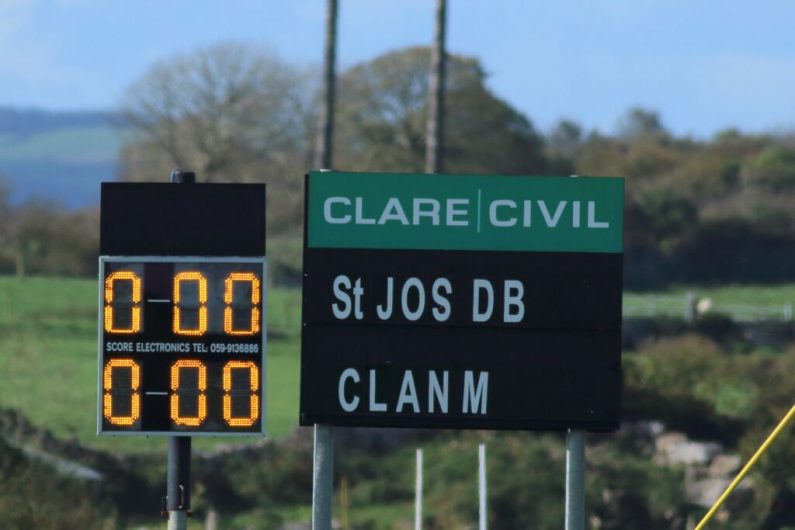 Just a week on from the flooring disappointment of losing the Intermediate County Final St. Joseph's did finish their season in admirable battling fashion when pushing defending Munster Junior Club champions Clanmaurice of Kerry all the way on home soil on Sunday last Oct 14th.
It was difficult enough to face the Kerry senior champions but as they were also the Kerry county team, the Parish did well to match their opponents for the majority of the game.  Full forwards Ciara Duggan, Vanessa Meaney and Ciara Guilfoyle did all in their power to harass and side step a tight full back defence line but at half time Joseph's found themselves trailing by only two points on a poor score line of 3 points to 1 point courtesy of Ciara Duggan from a free.
Two half time substitutions, Aisling McMahon and Laura Hayes invigorated the home side and the second half proved a better spectacle as Sīofra Nī Chonaill opened the score with a point following an open run from her midfield position.  But anticipation was quickly quashed as Joseph's were hit a blow conceding a goal and a point within minutes despite superb defending from the full back line Orla Moloney, Megan O'Brien and Kate Dillon.  This left them now trailing 1-4 to 2 points.
Joseph's converted two successive points, one from a free from Aisling McMahon and the other from play from wing forward Hannah Meaney.  A glimmer of hope crept in with only the goal between the sides now.  The half back line Eimear Casey, Chloe Towey and Aisling Hannan worked tirelessly to prevent the pressure Clanmaurice forwards poured upon them aided strongly by Orlaith Lynch and Sīofra Nī Chonaill in midfield, but again the maroon and white girls were left reeling when another goal was conceded despite the best efforts of goalie Karen McMahon.
Hannah Meaney and Caoimhe Hoey on each wing in the forwards worked tirelessly to gain possession of each high ball along with centre forward Sarah Hoey and managed to secure much deserved frees.
And in true Parish style the Joseph girls reacted cleverly as wing back Aisling Hannan stepped up to take one of those much deserved frees, landing the sliotar in around the house finding Aisling McMahon who was placed nicely just outside the box to flick the sliotar to the back of the Clanmaurice net raising a well earned green flag for their hard work.
Now, trailing by only a goal, the Doora Barefield girls threw all they could at the physical Kerry side with fresh legs Erinn Hennessy, Fiona Tuohy and Meadhbh O'Connor bringing hope and skill to their fellow teammates.
Hannah Meaney earned her second point of the game from play and Aisling McMahon converted her second free of the half but Clanmaurice answered with four more points ensuring their journey home wasn't in vain whilst also earning their position in the Munster Final.
Despite superb defending, agile midfielders, skillful forwards and emptying the sub bench the Intermediate Joseph's panel bowed out of the 2018 season with heads held high having won the Intermediate League Title earlier in the year, earning themselves a slot in the Intermediate County Final as well as contesting Munster, this special bunch of girls should be very proud of their achievements.
Panel:
Karen McMahon, Orla Moloney, Megan O'Brien, Kate Dillon, Eimear Casey (Vice Captain), Chloe Towey, Aisling Hannan, Sīofra Nī Chonaill, Orlaith Lynch, Hannah Meaney, Sarah Hoey, Caoimhe Hoey (Captain), Ciara Duggan, Vanessa Meaney, Ciara Guilfoyle, Aisling McMahon (for Duggan), Laura Hayes (for Vanessa Meaney), Erinn Hennessy (for Caoimhe Hoey), Fiona Tuohy (for Casey), Meadhbh O'Connor (for Guilfoyle).