Minor B Final V Clooney-Quin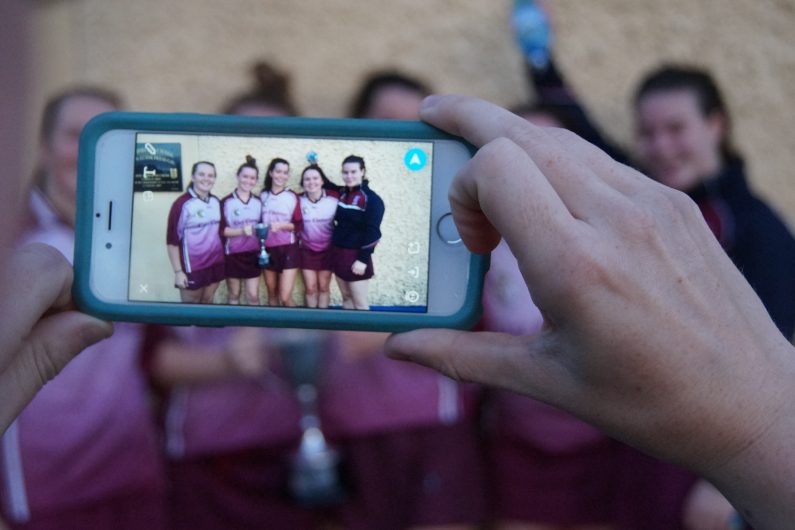 A strong start saw St. Josephs open an eight point lead over neighbours Clooney/Quin
in the Minor B County Final in Clareabbey last Wednesday evening. Goals from Hannah Meaney and full forward Ciara Whelan had the winners six clear by the eleventh minute. Whelan followed with her first point of the evening before Hannah Meaney tagged on another point in the 23rd minute of the half. From here to the half time whistle exchanges were even and Sinead Considine registered Clooney/Quin's
score with a point a minute later. With six minutes remaining Sarah Costello goaled for Clooney/Quin and had the final say of the half with a point in the 27th minute leaving just three between the sides  at the interval on a scoreline 2-2 to 1-2.
St. Josephs returned with Ciara Duggan and Siofra Ní Chonaill in the team in place of Keira McGrath and Aisling Reidy. Sarah Costello scored her second point for Clooney/Quin in the 12th minute to cut the deficit to two heading to the final quarter. But, the parish side's Ciara Duggan replied with a well taken goal to the corner of the net
from a well timed pass from the hard working Siofra Ní Chonaill to stretch the advantage to five. Both sides exchanged points in the final minutes, before a Ciara Grogan free in the 59th minute found the net to close the gap to two (3-3 to 2-4). Both sides will rue missed scoring opportunities, but as the final whistle sounded St. Josephs had done enough and held on to secure victory. Laura Hayes, Siofra Ní Chonaill, Aisling Hannon and Orla Moloney did well for the winners.
St. Josephs: Karen McMahon, Orla Moloney, Kate Dillon, Aisling Hannon, Orla Hoey, Vanessa Meaney Capt. Áine Moloney, Aisling Reidy, Laura Hayes, Keira McGrath, Michelle O'Neill, Mary O'Connor, Ciara Guilfoyle, Hannah Meaney (1-1), Ciara Whelan (1-2) 1f.
Subs: Siofra Ní Chonaill for Keira McGrath, Ciara Duggan(1-0) for Aisling Reidy, Aoife Shannon for Hannah Meaney.
Clooney/Quin: Aine Nash, Sinead McGee, Ellen Liddy, Michelle Meere, Orlaith Nash,
Ciara Halpin, Mary Conneally, Ciara Grogan (1-1), Aoibheann Duggan, Sinead Considine (0-1), Sarah Costello Capt. (1-2), Rachel Begg, Moya Dunne, Emma Deegan, Roisín Keogh.
Subs: Roisín Corbett for Sinead Considine, Aisling McGrath for Roisín Keogh.