Junior B Final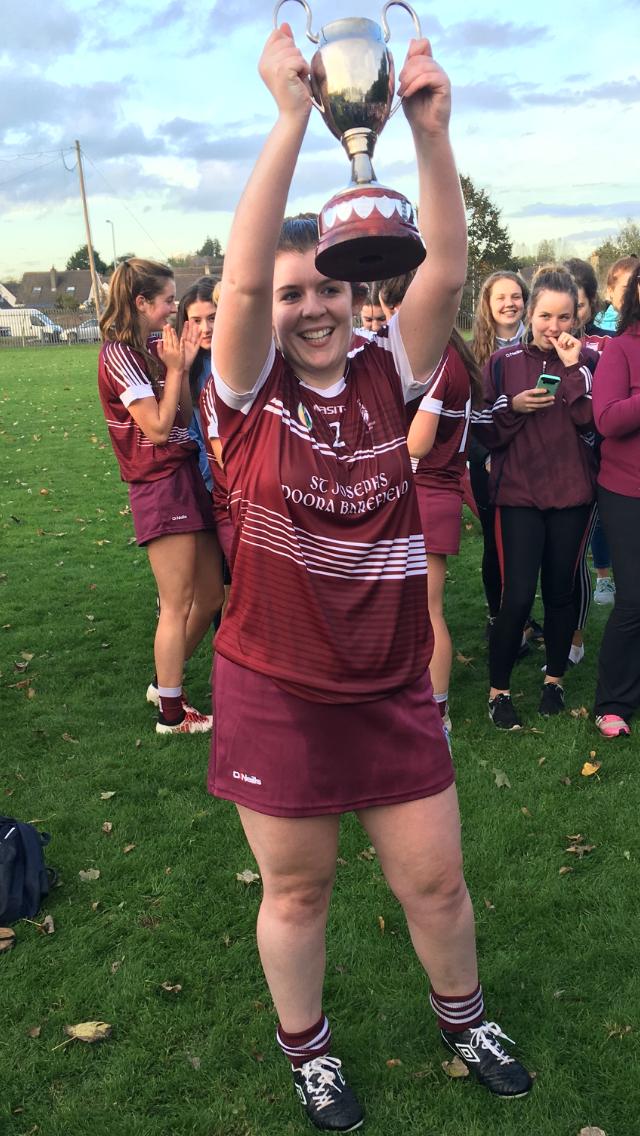 In sheer style, St. Joseph's captured the Junior B title in Shannon on Sunday evening Oct 14th against Truagh/Clonlara.
An early goal only 60 seconds into the game by Aoife Shannon set the tone for the maroon and white girls to lay down the mark and ensure their club were promoted to the A division in 2019.
Having kept a generously clean slate throughout their championship campaign only conceding 1-12 in their four games to-date, this bunch of Doora Barefield girls showed they meant business.
Straight from the throw in St. Joseph's were dominant and when Aisling Reidy's sliotar hit the upright, Aoife Shannon was primed to snatch it and bury it in the back of Liza Moloney's Truagh Clonlara net only a minute into the game.
This goal proved to be the thorn in Truagh/Clonlara's side for the duration of the hour, with the goal being the difference throughout.
With points from play from Amy Lenihan, Mūirne Nī Chonaill, Kiera McGrath and the accurate free taker Aisling Reidy, St. Joseph's notched up seven points by half time whilst Niamh Power for Truagh/Clonlara kept her side in the game with three well taken frees as well as a '45 leaving the half time score at 1-7 to 4 points.
With both side exchanging frees in a seesaw style of camogie in the second half, Reidy and Power for their respective sides showed composure and accuracy with Reidy slotting over four more and Power three.
McGrath and Reidy again scored a point each from play giving St. Joseph's the upper hand.
But in true East Clare fashion, Truagh/Clonlara never gave up and as Cathy Halley pushed forward to aid her forward counterparts, they pushed hard to break down the strong St. Joseph's defence orchestrated by their experienced goalie Ann Marie McGann refusing the green flag to be raised.  Defenders Ellen Meaney, Sarah O'Brien and Naoise Slattery time and time again emerged with the sliotar as the pressure poured on releasing it to fellow defenders Alannah Meaney and Emer Hanrahan to clear down the field.
The agile Orla Hoey, Muireann Collins and Aisling Reidy in the midfield area fed forwards with good ball and Ann Foudy, Niamh McDonagh and Leanne Meaney proved instrumental with great skill and technique in all areas.
As the full time whistle blew it was St. Joseph's Captain Ellen Meaney who stepped up to claim the Junior B cup with pride and delight, thanking the numerous supporters for turning out in their droves to watch the club be promoted to junior A in 2019.
St. Joseph's Panel
Ann Marie McGann, Ellen Meaney (Captain), Sarah O'Brien (Vice Captain), Naoise Slattery, Emer Hanrahan, Alannah Meaney, Orla Hoey, Aisling Reidy, Muireann Collins, Mūirne Nī Chonaill, Amy Lenihan, Kiera McGrath, Aoife Shannon, Niamh McDonagh, Leanne Meaney, Ann Foudy, Karen O'Brien, Ciara Whelan.