Intermediate League Doora Barefield vs Clarecastle/Ballyea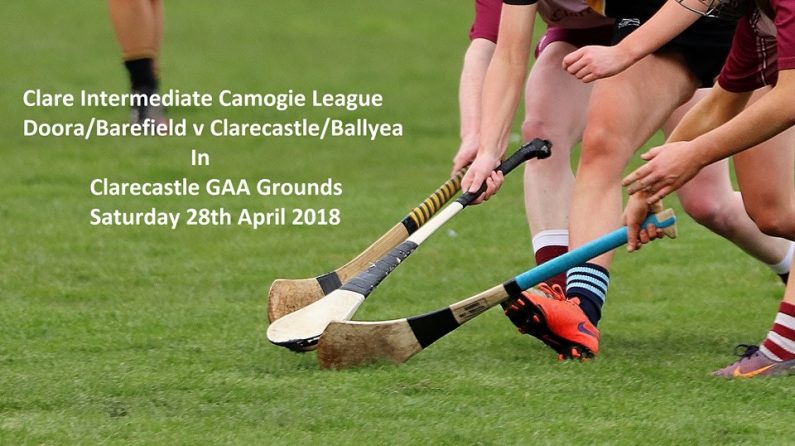 Saturday April 28th saw St. Joseph's travel to Clarecastle to play their 4th intermediate league game this season against Clarecastle/Ballyea.
It was St. Joseph's who set the marker from the throw-in and saw Caoimhe Hoey score the games first point in the opening minute.
Between both Hoey's, Caoimhe & Sarah along with Aoife Shannon, Aisling McMahon & Laura Hayes they dominated the forward line and together with great defensive work by Vanessa Meaney, Kate Dillon & Megan O'Brien denying any goals, the maroon and white girls finished out the first half on a score line of 5-5 to Clarecastle/Ballyea's mere 5 points!
Clarecastle/Ballyea never dropped the heads and came out fighting in the second half with plenty points clocked up.  But with even more scores from a blistering forward line of Caoimhe & Sarah Hoey, Laura Hayes, Aisling McMahon, Ciara Whelan & Aisling Hannon it was always going to be a day when goals won matches. Full time score St. Joseph's 6-12 Clarecastle/Ballyea 1-12
Panel
Karen O'Brien, Fiona Tuohy, Megan O'Brien, Kate Dillon, Hannah Meaney, Chloe Towey, Vanessa Meaney, Louise Woods, Sīofra Nī Chonaill, Aoife Shannon, Sarah Hoey, Aisling McMahon, Laura Hayes, Ciara Guilfoyle, Caoimhe Hoey, Aisling Hannon, Eimear Casey, Amy Lenihan, Orla Hoey, Meadhbh O'Connor, Ciara Whelan, Kiera McGrath, Aisling Reidy, Orlaith Lynch, Ciara Duggan.