Intermediate County Final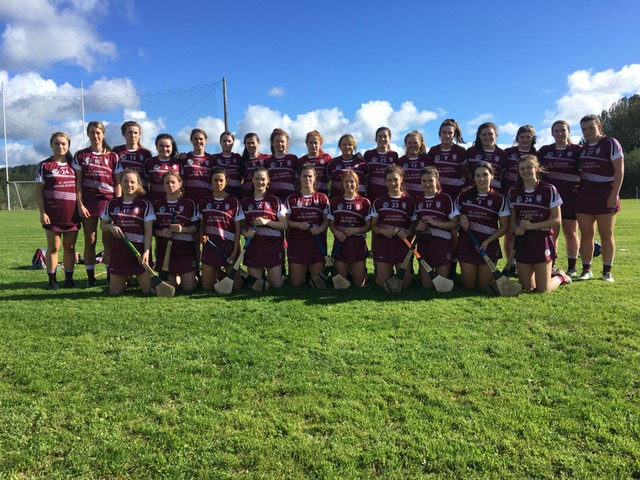 Two early goals for St. Joseph's would have lead anyone to believe that these dual players were on their way to senior status matching their football success of just a fortnight previous, but finding themselves two points behind at half time meant Kilkishen Bodyke weren't settling for intermediate level any longer!
Kate Lynch registered the first point of the day for the East Clare amalgamation, but Ciara Duggan for Joseph's replied snappy from an Edel McNamara puck out.
Kilkishen's Caoimhe Kelly converted a free but within minutes Joseph's found themselves raising the green flag not once but twice, firstly midfielder Síofra Ní Chonaill got a classic flick to a low free from Duggan to find the back of the net and exactly one minute later Ní Chonaill found herself unmarked again to power past McNamara for the second time within 60 seconds!
It looked like Joseph's would excel from this brilliant start but young Cara Close from Kilkishen found the sliotar in her hand only yards from Karen McMahon Joseph's goalkeeper and simply replied diligently to answer the two previous blows.
Caoimhe Kelly and Eilís Whitney dominated the remainder of the first half with Kelly converting three frees as well as a '65, while Whitney popped two points over in succession. Duggan for the maroon and white girls sliced a free over the bar and scored another from a difficult angle to leave half time score Kilkishen Bodyke 1-8, Joseph's 2-3
Poor scoring in the second half saw Kilkishen's Kelly again raising the white flag twice from well converted frees and the same from Joseph's, their first free converted by Aisling Hannon and second by Aisling McMahon with a third point coming from centre forward Sarah Hoey from play.
It looked like Kilkishen Bodyke were on top by the narrowest of margins as the clock closed in on this intermediate county final but Shauna Doyle from Bodyke ploughed through a strong Joseph's defense to rattle the back of their net ensuring the East Clare amalgamation would contest the senior championship in 2019.
Final score Kilkishen Bodyke 2-10
St. Joseph's 2-6
Kilkishen Bodyke Panel:
Edel McNamara, Orla McInerney, Róisín Minogue (Joint Captain), Nollaig Baker, Ava Quigley, Alannah Ryan, Ciara Ryan, Eilís Whitney, Caoimhe Kelly, Niamh O'Brien, Kate Lynch (Joint Captain), Siobhán Lenihan, Cara Close, Kate O'Gorman, Shauna Doyle, Deirdre Minogue, Joanne O'Gorman, Niamh O'Gorman, Katie Minogue, Rachel Murray, Rachel Grogan, Michaela McNamara, Molly Kilkenny, Orla O'Brien, Ellen Lenihan
St. Joseph's Panel
Karen McMahon, Orla Moloney, Megan O'Brien, Kate Dillon, Eimear Casey (Vice Captain), Chloe Towey, Aisling Hannon, Orlaith Lynch, Síofra Ní Chonaill, Erinn Hennessy, Sarah Hoey, Ciara Guilfoyle, Ciara Duggan, Hannah Meaney, Laura Hayes, Ann Marie McGann, Meadhbh O'Connor (for Dillon), Aisling McMahon (for Hennessy), Fiona Tuohy (for Hayes), Vanessa Meaney, Caoimhe Hoey (Captain for Duggan), Aoife Shannon, Kiera McGrath, Orla Hoey, Ciara Whelan, Aisling Reidy, Amy Lenihan, Louise Woods.