5th & Final Intermediate Round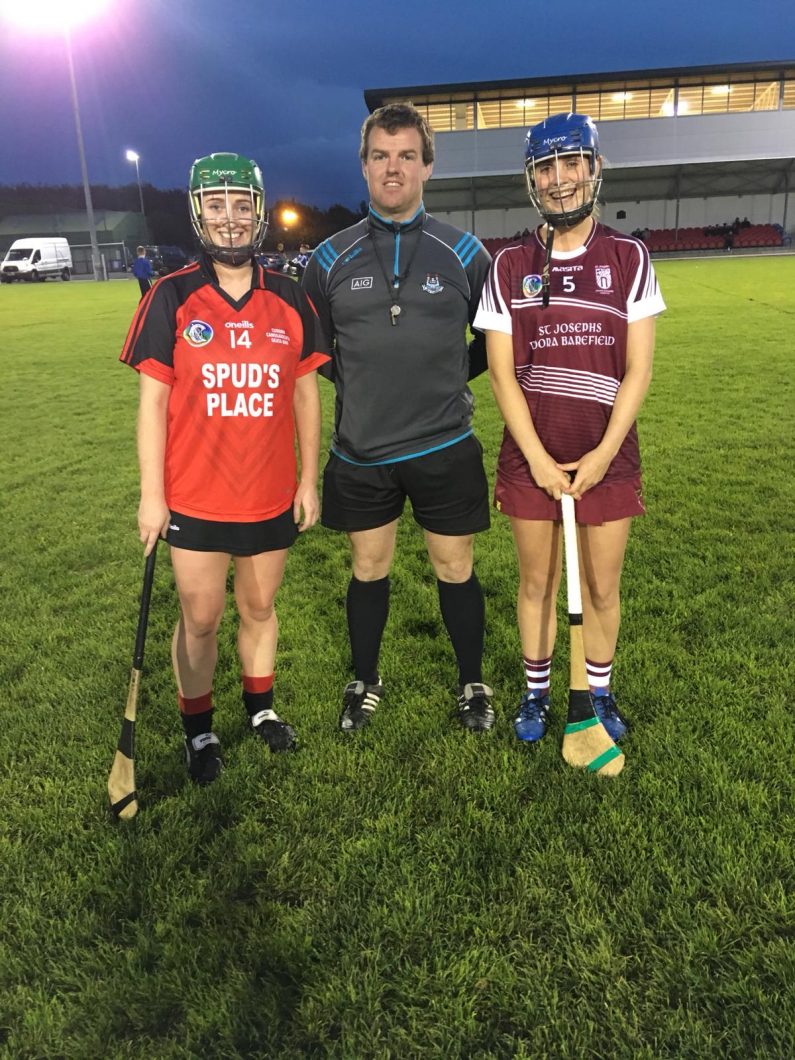 Under lights in Gurteen was the venue for this final round game for St. Joseph's and Whitegate, Joseph's having three wins notched up out of four and Whitegate two.
It was a 'dog eat dog' sort of first half with only seven points scored in total at half time, six for the homeside and one for the visitors, and five of the seven coming from frees and '65's!
Aisling McMahon for Joseph's scored three points from frees and another from a '65 while her team mate in corner forward Ciara Duggan scored two points from play. Number one for Whitegate Lauren Solan slotted over their only point of the first half from a '65.  Half time St. Joseph's 6 points, Whitegate 1 point.
The second half saw a more free flowing game with plenty goals and points on the scoreboard for both teams.
Aisling McMahon registered the first score of the half for Joseph's, again from a free while her fellow midfielder Orlaith Lynch soloed through a strong Whitegate defense to rattle the back of the net raising the first green flag of the evening.
Sarah Hoey, Erinn Hennessy and Hannah Meaney and Duggan again added to Joseph's point tally before Louise Woods struck with another goal for the homeside.
Whitegate did rally however striking no less than three goals as well as a point but it wasn't enough to see off a determined St. Joseph's side and when the final whistle blew it finished on a scoreline of St. Joseph's 2-13, Whitegate 3-2
St. Joseph's Panel
Karen McMahon, Orla Moloney, Megan O'Brien, Kate Dillon, Eimear Casey (Captain), Chloe Towey, Aisling Hannon, Orlaith Lynch, Aisling McMahon, Erinn Hennessy, Sarah Hoey, Ciara Guilfoyle, Ciara Duggan, Síofra Ní Chonaill, Louise Woods, Hannah Meaney (for Aisling McMahon), Meadhbh O'Connor (for Aisling Hannon), Vanessa Meaney (for Síofra Ní Chonaill), Fiona Tuohy (for Kate Dillon), Laura Hayes (for Orlaith Lynch), Ciara Whelan.