St. Joseph's Doora/Barefield GAA Club AGM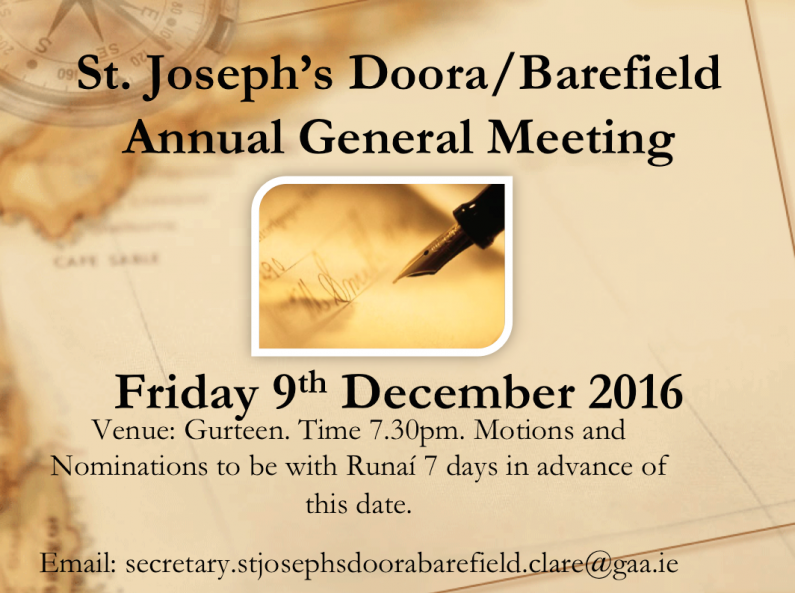 NOTICE OF AGM
FRIDAY 9TH DECEMBER 2016 – GURTEEN – 7.30P.M.
List of Officers 2015/2016
Name
Position
Available for re-election
Yes/No
Martin Coffey
Chairman
Yes
Michael McMahon
Vice Chairman
Yes
Tom Duggan
Secretary/Welfare and Safety Officer
Yes
Dan O'Connor
A/Secretary
Yes
Noel Stapleton
Treasurer
Yes
David Frawley
A/Treasurer
Yes
Joe McNamara
Registrar/Co Brd Del
Yes
Cillian Griffey
PRO
No
Bill Clohessy
Minor Com. Rep.
Yes
Liam Clohessy
Irish Officer
Yes
Joe Hallinan
Comm member
Yes
Pat Frawley
Comm member/Co Brd Del
Yes
We wish to increase the number of committee members to fourteen (14) and invite nominations, details to include – nominee, proposer and seconder – to be submitted to the Secretary on or before 2 December 2016.
Team Management:
The following team managers are nominated by the executive for ratification at AGM 2016
Team
Name
Mgt Team Details
Senior Hurling
D Honan, D Hoey
To be finalised
Junior Hurling
K Kennedy, B Mulqueen
To be finalised
Under 21 Hurling
J O Connor
To be finalised
Senior Football
C O Neill
To be finalised
Junior Football
Under 21 Football
A O Neill
To be finalised
Any further nominations – details to include nominee, proposer and seconder – to be submitted to the Secretary on or before 2 December 2016
Notice of Motions – motion details, proposer and seconder – to be submitted to the Secretary on or before 2December 2016