St. Joseph's Doora/Barefield GAA set the bar high in member communications with new website launch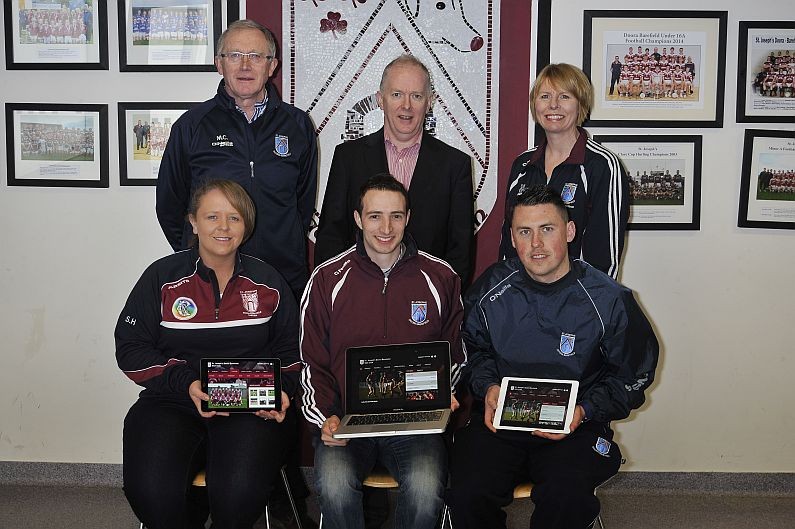 Pictured: Back row left to right; Martin Coffey (Chairman of St. Joseph's Doora/Barefield GAA Club), Michael Byrne (Managing Director, Acton BV), Sharon Meaney (PRO St. Joseph's Doora/Barefield Ladies Football Club) Front row left to right; Ann Marie McGann (PRO St. Joseph's Doora/Barefield Camogie Club) Cillian Griffey (PRO St. Joseph's Doora/Barefield GAA Club), Liam Clohessy (Minor Club PRO St. Joseph's Doora/Barefield GAA)
The new St. Joseph's Doora/Barefield GAA website was launched last weekend.
Speaking at the launch of the Club's new website, PRO of St. Joseph's Doora/Barefield GAA Club, Cillian Griffey stated that "With well over forty teams between Minor, Senior, Ladies football and Camogie, it was imperative that members and the general public have a 'one stop shop' for all fixtures, results and match reports to keep up to date with the activities of the club. There is a strong focus of linking with social media on the site. Its importance is crucial and has evolved over time. Twitter & Facebook are now used at matches to give instant updates. Websites and social media sites now complement each other to provide overall coverage of events within the club."
A goal from the outset for this new site was to be inclusive and the St. Joseph's new website showcases Ladies football and Camogie activities as well as Senior and Minor activities. The site also allows members to pay their membership online as well as sign up for their weekly newsletter.
The top class facilities at Gurteen are to the forefront of the site. The Astroturf, Hall and Meeting rooms are all available to hire and with wifi now available in the Clubhouse, enquiries and interest have increased.
Chairman of St. Joseph's Doora/Barefield GAA club, Martin Coffey described the development of the new site as "core to our targets in our Vision 2020 development plan and will prove vital in our communication strategy with members and the general public. Many thanks to Acton BV and Club PRO's for all their hard work in developing the site"
Sharon Meaney, PRO of St. Joseph's Doora/Barefield Ladies Football Club said that "As we strive to support the recognition of women in sport, we are delighted to be involved in the development of the new St. Joseph's Doora/Barefield website where we can further raise awareness of the successes and achievements of Doora Barefield Ladies football."
PRO of St. Joseph's Doora/Barefield Camogie Club, Ann Marie McGann explained that 'The new website will allow all people involved and interested in Camogie in our club and beyond to keep informed of all fixtures and events that we are involved in. Members have already described the site as very accessible and user friendly, just one advantage from the old site is that it is mobile ready meaning ease of use on any device."
The development of the new website could not have been made possible without the support and expertise of Ennis based web development company Acton BV. Managing Director of Acton BV, Michael Byrne said "We at Acton BV are delighted to support the club. We hope communicating with members and parents will be improved through the new website. There's lots of scope for announcing the clubs achievements online and we look forward to lots of pictures of silverware in the years ahead!"